Three WUSD schools were represented by teams at the FIRST LEGO League (FLL) Regional held at Mukwonago High School on Saturday, November 19. The competition hosted a total of 20 teams from elementary and middle schools from around southeast Wisconsin. The WMS Iron Dragons, the Washington Brick Layers, and the Lakeview Brick Layers spent the day interacting with other teams, completing practice runs with their Spike Prime robots, participating in competitive robot runs, and presenting for a team of judges. The presentations included the team's innovation project based on this year's FLL Challenge theme of Super-Powered, dealing with the future of sustainable energy.
Whitewater schools participate in the FLL Challenge level age-group with 4th and 5th graders at the elementaries and 6th and 7th graders at the middle school. Teams are challenged to start with their base Spike Prime robot and then design and add attachments to the robot with LEGOs that they can write code to operate. This then allows them to complete a series of missions on the tabletop game field. Each mission is worth a varying number of points, and all of the mission scores are added together to achieve the final robot score. After three attempts on the official field, teams are ranked based on their highest run. Teams also maintain technical documentation of their engineering process.
The Whitewater Middle School Iron Dragons, coached by Mrs. Kerry Ramsden, are a newly formed team, and many of the students were first-time coders and builders. They met after school and during the Middle School's club advisory time in preparation for their first competition. Their team's formation was made possible in part by a generous donation from Wisconsin Makers, Inc. which funded the purchase of their new Spike Prime robot. The students presented their Hydroelectric Gutter project at the FLL competition which proposes using a series of water wheels to harness power from the flow of water through gutters during rain showers. They received positive feedback from the judges on their teamwork and how each of them had a part in project presentation and robot design.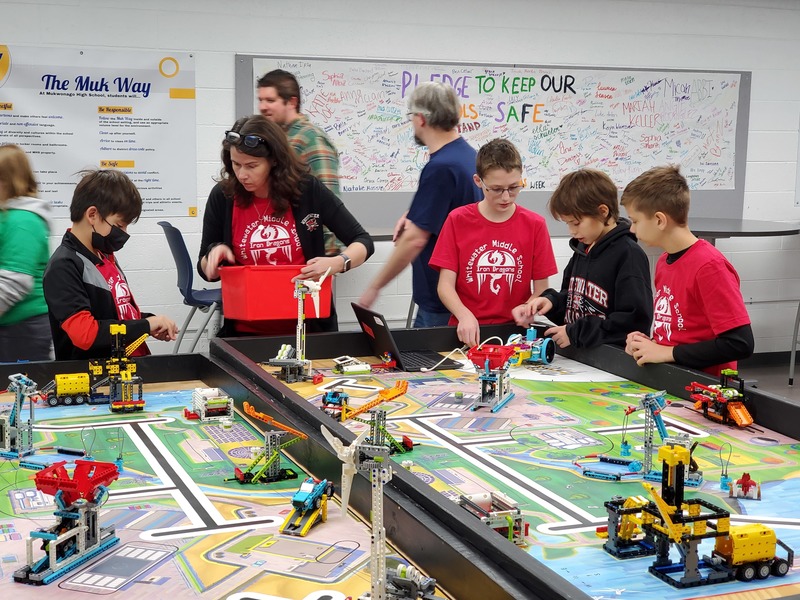 The Washington Brick Layers, coached by Mr. Chris Nate and Mrs. Valerie Troxel, met after school twice a week to work on computer coding, robot design for their robot Gerald, and researching this year's theme: energy. The students sent out electronic quizzes to their families and the teachers to collect data on personal energy usage. They met with Mr. Johnson from We Energies and found out about our community's energy grid and how we get and use energy on a daily basis. The students used this data to create a fictitious app called Meter Reader (MR.) which would convert energy usage on your phone into dollar amounts. This way homeowners could adjust and hopefully, save money and energy. They presented this idea in a newscast to a panel of judges along with competing in three robot competitions.
The Washington team earned the Motivate Award at Saturday's event, which celebrates a team that embraces the culture of FLL through team building, team spirit, and displayed enthusiasm. The Motivate Award celebrates the core values of FIRST Robotics of discovery, innovation, impact, inclusion, teamwork, and fun, and the winner is selected after a discussion between all of the judging teams.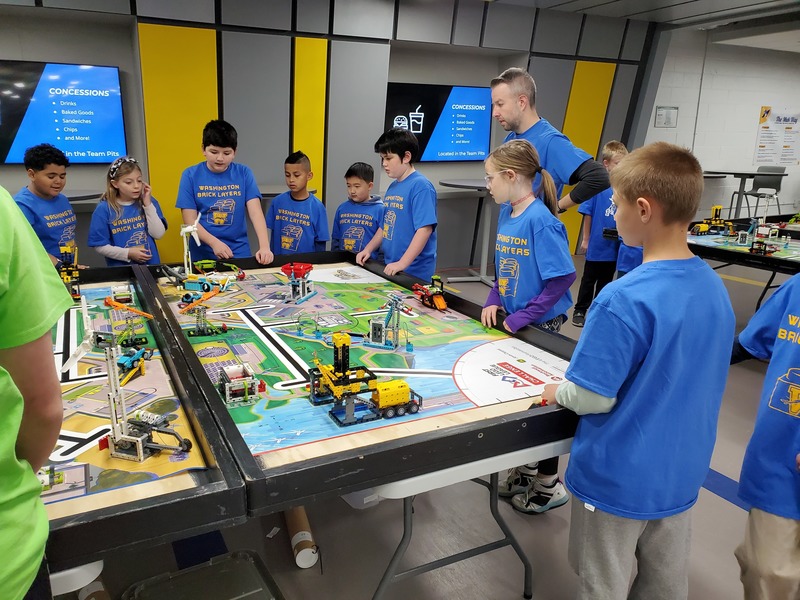 The Lakeview Brick Layers are coached by Mrs. Sara Brautigam. "Lake Power" was the focus of Lakeview's LEGO League innovation project. The team was interested in developing a hydroelectric station through Whitewater Lake that could help power our Promethean boards at Lakeview. The students sent out surveys to teachers on their daily usage of their Promethean boards and were amazed at how much they are used! The team also conversed with Mr. Grondin from WE Energies on information pertaining to hydroelectric power. With the use of hydroelectric power, we could provide energy to our school to help offset our daily electrical usage. They presented this idea to a panel of judges, along with their robot design and core values. King Bob, Lakeview's robot, completed 3 rounds in the afternoon during the robot competition.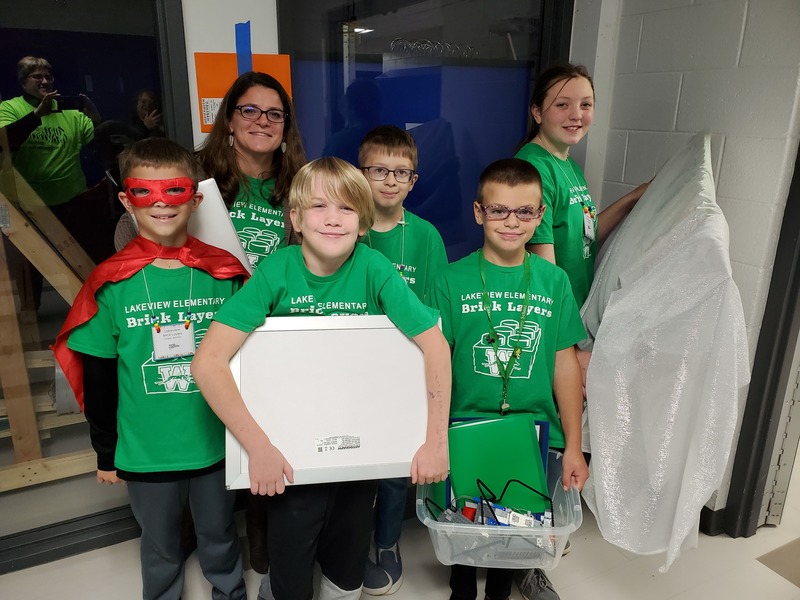 The Lincoln Brick Layers, coached by Mrs. Lisa Kaminski, were not able to enter the Mukwonago competition but met throughout the season to learn to program their robot and work on their innovation project.
Members of Ferradermis, Whitewater High School's FIRST Robotics Competition Team, were excited to help out some of the elementaries and the middle school during a few of their team meetings, providing mentoring in preparation for Saturday's competition.
The elementary teams ended their day on Saturday with some exciting news from the Whitewater Community Foundation, as a Community Action Grant written by Mrs. Lori Heidenreich on behalf of Delta Kappa Gamma (DKG) will allow each of the three elementaries to purchase a second Spike Prime robot kit. Each elementary school now owns one robot kit which was provided through fundraising by the high school robotics team, and Wisconsin Makers, a local makerspace, recently funded the first robot kit for the middle school team. Having a second robot at a school will allow many more students to be hands-on at the same time.
At least two of the schools are now looking forward to a second in-house season with new groups of students, and the schools also plan to host their own in-district competition later this year.
If you would like any additional information on the WUSD robotics program, would like to help mentor a team, or would be interested in sponsoring a team, please reach out to one of the coaches/advisors below: